8 Smart Tips For A Smoother Office Relocation
5 min read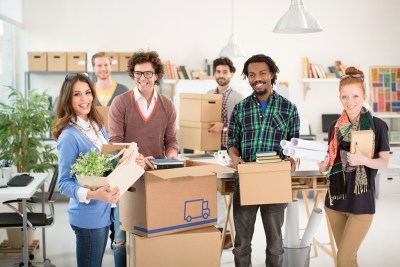 Last Updated on February 18, 2022 by Aaron Thompson
Many office owners move their offices to new locations. They want an expansion of their offices. Some of them are moving from a large office to a small one.
Packing the whole office stuff and moving them safely is not an easy job for them. Many people feel stressed and frustrated due to the time-consuming office relocation.
But they are lucky to have packers and movers who can support them during the office relocation. These movers have every bit of knowledge that is required for seamless office relocation.
They pack your office stuff perfectly and move them without any risk. However, many things can make your move a failure. So, you should be more careful during your office relocation.
If you want to move your office items without any stress, the following tips will be extremely useful for you.
1. Plan Early For Your Office Relocation
Starting your relocation early will increase the chances of a successful move. When you start early in the morning, you have maximum time to manage your move.
Many people start their move late and regret their decision later. They are not able to organize their move as they have less time left for the day. At that time, they only have the single aim to reach their destination.
Planning an early office move will be much important for you if you are moving to a faraway location. If you start early, you'll reach your destination early.
If you get late during the move, you'll struggle in managing your move at the last minute.
So, take out spare time from your busy schedule. Dedicate this time only to your move. Think about the approaching move deeply and know what things you will be going to need during the relocation.
It would be best if you plan the move at least 2 months before. Also, plan your budget before starting the moving process.
2. Managing The IT Department
One of the most important things during your office move is to manage the move of Your IT department. There are many pieces of equipment in the IT department. And moving them is really tough.
Transporting your servers, phones, and computers needs great planning on your part. So, it would be good if you manage the IT move professionally.
If you want to get rid of your old office equipment, you need a good strategy to donate or recycle them.
Disconnecting all the technical machines and installing them again is a big task for you. The IT department of an office is the most important section of an office.
So, if you are successful in moving it to another place, you won't have much stress in relocating your entire office.
3. Assign Moving Task To Someone
Moving to a big office is a complex task. So, it would be better if you assign a relocation manager for your move. This manager will be responsible for streamlining your entire moving work.
Make sure to assign this work to your administrative staff. The reason is that these people have a wide domain experience in this field.
So, they are the best people to manage things. However, you can also assign any person you like for this work. But make sure to find a person that has good experience with office relocations.
4. Assign Everyone To Pack His Desk
This is the simplest thing you can do to manage your office relocation. You can let every person pack his desk in his own method.
This will help you greatly in your entire moving process. Give the moving deadline to your staff and tell them to move the items by that time. If every person moves his own desk, there are fewer chances of your office items being lost during the move.
5. Moving The Non-Essentials
There are many non-essential things you can take with you. These things are not so important. So, you don't need to move them with your belongings.
You can take them in your car. This way you can make your move much easier. Taking these office items by yourself will reduce some of your stress.
6. Don't Forget To Label The Boxes
Labeling offers the utmost safety to your boxes. It is important not only in the home relocation but also in the office relocation. If you want to experience a stress-free move, consider labeling each box you are moving to your new destination.
Labeling lets people identify your products. You can easily write a note on your precious office products and fragile items. Your packers and movers will handle these goods very carefully after reading the notes on them.
Try to label each box of your office. This will help you find all your products within seconds. Sometimes many things are lost or broken during the relocation. So, make sure to label your boxes to ensure the safety of your products.
7. Inform Your Employees Before hand
Another tip is to inform your employees about the move. If they know it earlier, they won't be in shock. May be some of your employees won't want to continue their job with you.
There are other employees who'll be ready to move with you. So, if you inform them early, they will prepare for the move. Also, make sure to update your staff with your timing schedules and moving plans.
It is also good to notify important processes and changes to your staff. Some of the things you need to inform them are new building rules, the new address and phone numbers, etc.
Also, ask them to create a checklist for moving to ensure that everything is delivered safely. It'll help you in knowing about any item that goes missing during the relocation.
Change of office location might be stressful for many people. Still, you need to inform your employees about this relocation.
Read: Home window replacement
8. Protection Of Your Data
Protecting your office data is also one of the important things during office relocation. There are many incidents where people experience the loss of their data.
So, it is important to back up your data to avoid any interruption in the office work. You can save your office data into a pen drive or hard drive.
Conclusion
Moving is not as tough as it seems to many people. If you adopt the above practices, you'll be able to move smoothly to your new work area.
If you are getting difficulties in moving your office items, contact the packers and movers. They'll make your office relocation a smoother process for you.
About Author