Fundamental Features of Business Intelligence Software – Zoho Analytics
4 min read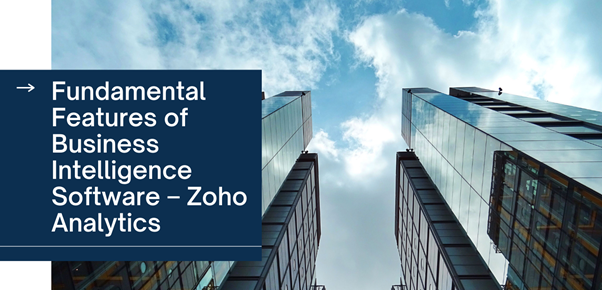 Last Updated on July 17, 2021 by Aaron Thompson
It might be hard to stay updated with all trends, technological advancements, and the latest news in this tsunami of big data. Zoho Analytics is an excellent stop to visit informed on the latest technologies. Many organizations use Business Intelligence (BI) Solution for different reasons depending on their specific circumstances & industry. With Business Intelligence Software Solutions, they can combine business analytics, data mining, data visualization, data tools, and infrastructure to make more data-driven decisions. Moreover, it gives you a comprehensive view of your organization's data & enables you to use that data to drive change.
If you want to achieve goals in business today, you have to take the time to analyze, collect, interpret, and act on data. Business Intelligence & Data Analytics Software helps organizations to make smarter purchasing decisions on business intelligence software. Besides, Zoho Analytics is a self-service business intelligence (BI) software that meets your data analytics needs. It allows users of data analytics to access data and create or customize their own reports and analyses. Over the past few years, Data Analytics Software has evolved to include more processes & activities to help improve performance. These procedures include:
Data Mining: Helps to uncover trends in large datasets.
Reporting: You can share data analysis with stakeholders so they can make better decisions.
Performance Metrics & Benchmarking: Track performance against goals and use customize dashboards.
Descriptive Analytics: easily find out what happened in your business.
Statistical Analysis: Get results from descriptive analytics and exploring the data using statistics.
Data Visualization: It helps to turn data analysis into visual representations.
Data Preparation: Compiling multiple data sources, identifying the dimensions and measurements.
Additionally, incredible Business Intelligence & Data Analytics Software helps organizations manage their data through well-established agile methodologies.
Why Zoho Analytics for Data Analytics?
Zoho Analytics can help companies to make better decisions by showing current & historical data within their business context. Analysts can leverage BI to provide performance & competitor benchmarks to run their organization smoothly and more efficiently. Thus, it is also beneficial to increase sales or revenues. With Zoho Analytics Solutions, organizations can make smarter, data-driven decisions:
Increase profit through unique ways.
Analyze customer behavior.
Compare data with competitors.
Track performance.
Optimize operations.
Predict success.
Spot market trends.
Discover issues & problems.
Features & Benefits of Zoho Analytics
You can use Zoho Analytics for in-depth reporting, analysis, synchronization of data, data mining, and statistical analytics.
You can connect multiple business application.
Convert files into multiple formats like XML, HTML, and CSV.
Connect a wide range of relational databases.
Blend & merge data from different resources.
Build insightful reports & dashboards.
Use a variety of charts, widgets, and pivot tables.
Create meaningful reports & dashboards.
Derive key metrics & uncover hidden insights.
Use pre-built analytical function.
Develop and share reports together with your colleagues.
Make data accessible for all users.
Extensible & Scalable BI platform to integrate reporting & analytical capabilities.
It ensures your data is secure & safe.
Get Incredible Business Analytics Solutions
Sales Analytics Tools
Get sales analytics tools to analyze your sales data and create insightful sales reports & dashboards. Track your key sales indicators and get deeper insights into your sales pipeline. You can easily import data from multiple CRM include Salesforce CRM, Hub Spot CRM, Microsoft Dynamics CRM, Pipe drive CRM, and any other sales platform. Moreover, you can develop & analyze together, email, schedule, and print reports integrate various CRMs, and kick start your analytics journey with Best Business Intelligence Software.
Marketing Analytics
Zoho Analytics provides the best marketing analytics tools to analyze your marketing data visually and track your marketing key metrics effectively. Thus, you can analyze data from multiple marketing apps, including Google Analytics, Google Ads, Mail Chimp, etc. You can track all key marketing metrics, measure your ROI, boost your website traffic, and analyze your email marketing campaigns proficiently.
Financial Analytics Software
With in-depth financial analytics, you can visually analyze your business's financial health and easily make data-driven decisions. You can create insightful reports, dashboards and get a 360-degree view of your business. Furthermore, you can analyze your invoice and financial statements, combine data from different resources, get notified of any anomalies in your financial data, and track financial KPIs quickly.
Help Desk Analytics
Gain actionable insights with help desk analytics and understand your support team performance. Zoho Analytics assists in delivering actionable insights and increase customer satisfaction. You can quickly spot trends in deadline compliance, track & monitor agent performance, and combine your help desk data along with CRM data easily.
Social Media Analytics
You can measure your brand awareness across multiple apps. Zoho Analytics enables you to track, analyze, and measure all your key social media metrics under one roof. Let's explore and understand the content type that brings you to increase reach, optimize and maximize your ROI, understand your audience better, and gain an edge over your competitors with Best Data Analysis Software.
Let's grow your brand with powerful Analytics Software & Analyze your business data today! Get free consultation services at AL Fahad IT Consulting and use incredible analytics tools to analyze your business.
About Author