How to do Groceries Online Tips And Ideas
4 min read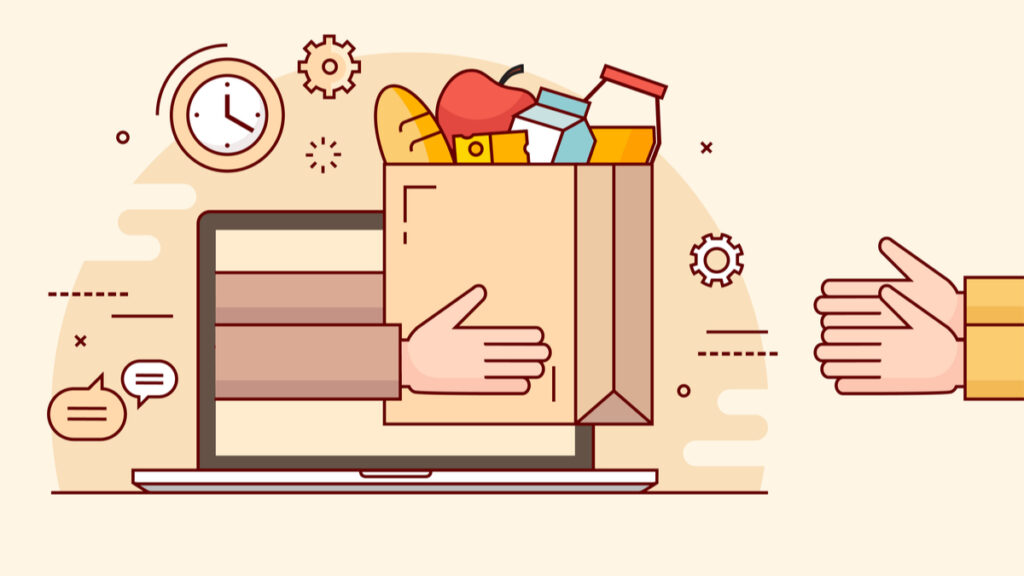 Last Updated on February 22, 2023 by Aaron Thompson
Shopping online for groceries is now a common choice all over the UK due to the fact that technology has provided new methods of supporting our daily lives. For those who do not have transportation or can't carry large grocery bags, shopping online can be extremely convenient.
But, we also recognize that some people over 50 may not be sure with online shopping or placing their first order online. This is why we've created this guide for beginners. In this guide we'll guide you through the shopping groceries online tips step-by-step. Let's get started.
Online Groceries Stores
In the beginning, you'll have to choose which store you'd like to purchase your groceries from and How Late is the Closest Grocery Store Open in the UK. It's good to know that most of the major stores now provide delivery. Here's a list of the most popular supermarkets as well as the delivery services they provide:
1.Tesco
Tesco provides the Delivery Saver Program. The cost is a flat rate every month, which gives you free delivery to your home on orders that exceed £30. If your order is not over £30 and they cost £4.50 in delivery. They also provide a free one-month trial of the Delivery Saver Plan which allows customers to free home delivery , including same-day delivery in the first month
2. Sainsbury's
The Sainsbury's provides delivery for just £1 for purchases of £30 plus. You can pick a delivery time slot that has a one hour time frame that you can choose to fit your. They also provide eco-friendly timeslots to decrease the carbon footprint of the delivery.
The supermarket also offers the service known as "Delivery Pass". This is a great option if you plan to purchase groceries regularly because it offers one free delivery slot every day. However, Sainsbury's are not currently accepting new Delivery Pass customers, but keep an eye out. They could offer it to customers once more.
3. Iceland
Iceland offers next day delivery for free on all online orders of greater than £40 without a subscription requirement.
4. Asda
Asda provides home delivery on purchases worth £40 and above. Delivery slots range from £1 to £6.50 dependent on the amount you want to spend and the slot you choose. Asda also offers the Delivery Pass that offers the option of free delivery every day for orders of more than £40.
5. Morrisons
Morrisons provides delivery to homes for all purchases with a value of £40. The cost for delivery will be different dependent on the delivery address along with the day and time you choose for your time slot, and the amount of your purchase.
All delivery costs will be disclosed to you prior to placing your order to ensure that you know precisely how the amount you'll pay. If you'll be using their services frequently It could be worthwhile to purchase the Delivery card to help cut down on delivery costs.
6. Waitrose
Waitrose provides Free delivery for all purchases that exceed £40. You can easily find everything what you need.
Method to Order Groceries Online
The website of every supermarket is different in a small way. Below is a general guideline on how to purchase groceries online.
1. Visit your favourite supermarket's website.
2. If you don't have one registered a new account with them by using the email you use. It is essential to select a safe username and password.
3. Explore the menu for 'Groceries' or similar on the homepage It is typically displayed as drop-down menus.
4. Continue to follow the categories until you find the product you would like to purchase e.g. Groceries > Fruit & Vegetables > Fresh Vegetables > Broccoli, Cauliflower & Cabbage. You can also use the search feature of your supermarket.
5. Select the product you would like to purchase and then click 'Add to your shopping cart. You can choose your quantity (either in terms of the quantity of packets , or by weight/quantity for loose product).
6. After you've completed selecting all of your food items When you're done, click 'Proceed for Check-Out or the equivalent.
7. If you've not done so selected your delivery time, choose the slot. It is possible to be charged some extra money for a higher-end timeslot, for the weekend or evening.
8. Pay for your grocery items.
9. You're done! It's now just a matter that you wait for food items to show up at your door.
Tips And Ideas to Groceries online
If you've figured out how to purchase groceries online to be delivered at home Here are some other suggestions to be aware of.
1. Keep an eye out for special deals and discounts to ensure that you don't miss the best deals.
2. The store you shop at might permit you to create a diet profile. This is a way to specify the requirements.
3. you have if you're vegetarian or coeliac, for instance. The system will automatically identify any foods that might not be appropriate in your food regimen.

4. If you're in search of inspiration You may be able to purchase complete meals plans or recipe boxes. This can take the pressure from deciding what to cook and buy.

5. If you frequently shop on the internet with the same retailer be sure to inquire if they have any rewards programs. Numerous chains offer incentives and promotions, such as the Sainsbury's Nectar Points or Tesco Clubcard for customers who are regular customers.
About Author