Save Your Time: Use Repair Shop Software
5 min read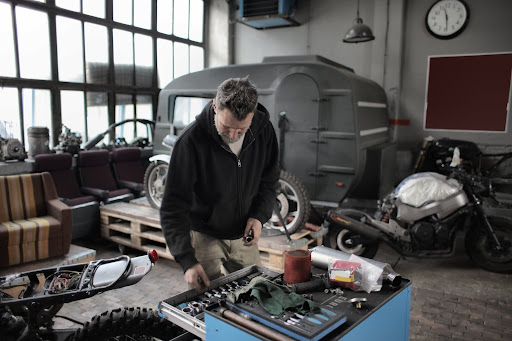 Last Updated on January 22, 2022 by Aaron Thompson
During today's era of convenience, one of the principles on which your company relies is on time management. This also holds true for auto repair shops.. Many auto repair workshop apply and improvise different methods to save as much time as possible.
When you are running a service business, you seek more input. Whereas, we have to put in more output when we want more of everything. Putting in more effort requires only two factors: time and effort.
The auto repair workshops need constant focus and commitment from their technicians.
It is impossible to expect consistent efforts over a short period. Technicians are not robots running on a future-based program, they also make mistakes.
Workshops running on the primitive approach of the work process need a lot more physical labor and time. Thus, their output is quite low compared to those that run on current operations.
Most of the competent workshops in the auto repair industry organized and streamline their workflow  with the help of repair shop software.
The software helps you gain a wider approach to innovative ideas to run your tasks. It makes sure that your monotonous tasks are automated like: invoicing, estimates, scheduling appointments, to name a few.
The program saves time by using its modern functions to give you a bit-by-bit guide on completing your tasks with more simplicity. We'll dive deep down into the software processing techniques to better understand its functions.
Read Also : Babyrainbow
Automated Stocking Of Your Workshop
Anyone running a repair workshop can tell you how hard it is to restock your parts & supplies. These tasks need a lot of unnecessary labor and time. Not to mention that it can be quite frustrating and demanding as you have to order specific parts at specific times.
And as you demand all these from your labor force, it will only lead to slip-ups as you cannot adhere to your recorded data all the time.
When such problems arise, they can disrupt the structure of your inventory. The problem can be either a build-up of excessive parts, or an absence of essential parts.
Using the software, you can organize all your inventory compositions. The application program manages all the shortcomings or necessities of your stock.
This way, you can save more time, and your tasks do not rely upon the ever imperfect human processing. This course of action will make your work a whole lot easier and free of every error and mishap.
Contacting Your Customers With A Direct Digital Approach
Your customers are your source of revenue, so without them, you will be out of business soon.It is not something that you're hearing for the first time. Getting customers' trust in your company should be your prime focus.
Giving customers excellent service is something that ensures that you've won the customer's trust. But to get to that, you must first grab their attention to your workshop. Leaving a good first impression is the key to it.
Today, the consumer community is involved in a more digital approach. And they expect your workshop to approach them via the online realm. The software helps you a great deal to reach such means of contact.
The program has made accessibility to your workshop through the online digital search. The consumer can contact your workshop with your contact info available on the web.
Additionally, it helps you book appointments for your customers. Appointments root to an open schedule and check the availability of technicians at the designated time. The program makes the appointment booking too effortless.
Less Manual Operations
Almost all auto repair workshops work on a very busy and random schedule. Many smaller tasks are associated with these major tasks, such as filling out record catalogs on paper logs. These tasks also include keeping a check and balance on the attendance of your technicians.
Keeping a check on all these tasks can be very sturdy. You already have a lot on your mind about your workshop. The last thing you want is to supervise such tedious but necessary tasks.
The software makes your life easier by completing all these tasks well-ordered and organized. You wouldn't have to worry about the punctuality and performance of your technicians working in your workshops. The program checks all the check-in and checkout timings of your employees.
The software also checks performance charts based on punctuality and customer reviews. Such supervision will give you an insight into all the failings and strong points of every employee and technician.
Online Payment Options And Invoicing
As mentioned before, your consumers usually meet their needs through online convenience. These online payment methods include direct transactions and even debit card payments. Although, many companies do not own or are not aware of modern payment methods.
The software provides you with all sorts of payment methods so that your consumer can apply for their payments. The program checks the applicable payment methods in the geographical area.
Moreover, The repair shop software also helps in billing and creating invoices online. After creating the invoice, the program can save the records online in the cloud or your system's hard drive. Such availability helps a lot in accessing specific records from a specific time.
Additionally, this convenience saves you a lot of money that you would have spent on paper billing.
Saving Your Time With The Repair Shop Software
After reading all that we said, one thing is very clear now. The repair shop software will transform your workshop into Avalon for your technicians and customers.
It will ease a lot of work burden from your technicians, which helps them be more committed and stay steadfast and focused on their tasks.
This positive energy will motivate your mechanics to give their best. This energy results in a picture-perfect customer experience. And with such a processed work layout, you will get the most output while saving a lot of time.
Conclusion
Technology has advanced where every service business strives to improve its service standards. All this while reducing time and making it more convenient for everyone. 
The business faces many unnecessary challenges when operating with an old expired configuration. This slackness makes it harder for them to survive in the ever-changing competition. At this stage, the software can be a big game-changer for you. 
The modernized program will make all your tasks simplified and elementary. So, you will save both time and space.
About Author