4 tips to choose the Best Education Loan on Property
3 min read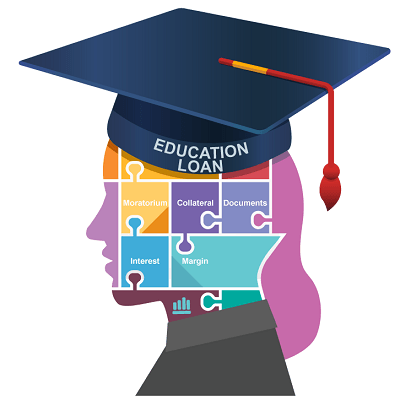 Last Updated on July 21, 2021 by EricJones
Both national and international educational degrees and diplomas now cost several lakhs in rupees, which is why many parents fund the expense with education loan for higher studies.
Whether it is at a premier institution overseas or within the country, pursuing a degree at a highly ranked college or university costs a small fortune. However, a study loan does offer a solution to ensure that your child is able to pursue their goals. 
Since an education loan on property is quite a popular offering, many lenders have simplified access to these loans. Unlike the government-backed education loan schemes, some of these offerings can be availed online and promise disbursal in a quick and hassle-free manner. The education loan against property comes with benefits such as restriction-free sanction, high value & minimum interest rate.
That means you can use the funds for any expenses incurred during the undertaking. 
So, how can you choose the best study loan for your child? For a clear answer to this question, take a look at the following pointers.
Check the education loan on property eligibility parameters
Your first step should be to check the lender-specific eligibility criteria. The main role is played by the age requirements as it matters because it gives the idea that lenders assess the borrower's repayment capability with the left over earning ears of his working life. Older applicants may attract higher rates of interest as compared to a younger applicant with a similar income profile. 
In addition to that, you should pick a lender that relaxed criteria for their education loan. Simpler requirements are easier to meet, require less documentation to prove eligibility and also help expedite loan processing.
Scout for an affordable interest rate
By virtue of being a secured loan, the education loan on property offers the benefit of a nominal interest rate. However, you can, and should, still scout for the lowest rate possible. You can do this by checking the promotional rates offered by lenders and shortlisting a few worthwhile options.
You can then start comparing the offering based on their features. Simply opting for the lowest interest rate may cause you to miss out on these helpful perks.  
Check the loan charges and prepayment terms
Repayment is arguably the most crucial part of the entire undertaking and should be something you consider whenever you take any decision. Inquiring about all the applicable charges on any loan you wish to apply for.
Ensure that the loan amount is sufficient for your needs
Taking an education loan against property generally promises a high-value sanction, you should check this before you apply. Few lenders may only offer a loan-to-value ratio of up to 75% and this may not be enough for your needs, so one need to find the suitable option.
To know exactly how much you need to borrow, ensure to first consider all the expenses you intend to cover. Remember, the sanction can cover everything, right from travel costs and VISA fees to accommodation expenses and tuition fees. 
Once the amount is decided which you want to avail, find the best offer with a loan limit high enough to comfortably cover the amount. Always check the borrow amounts beforehand and ensure that all charges applicable, at the time of borrowing and over the course of repayment, are acceptable.
Additionally, you should check the prepayment terms on the loan. Partial-prepayments can save you a lot of money and some lenders have rules or fees for such payments. 
with above pointers, you are in a better position to avail a truly cost-effective education loan on property.
Make the best decision with offers and putting in the effort to find the best will not only simplify the experience, but also save you money. 
Must Read : How to Calculate Your Fixed Deposit Interest Rate?
About Author