Everything You Need To Know About Sports Canvas Wall Art
4 min read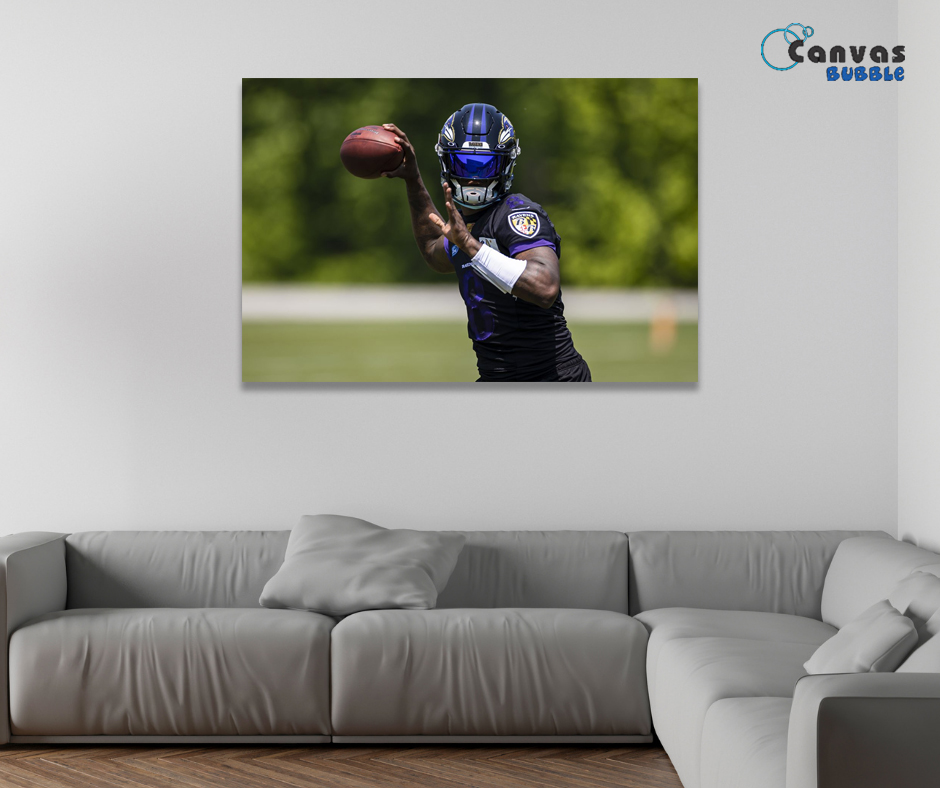 Last Updated on August 16, 2021 by Aaron Thompson
Sports lovers are always looking for ways to bring their favorite games into their homes. As evident as it is, you can easily see posters and frames of their favorite teams and players in their homes.
So if you, too, are an avid sports fan looking for ways to show off your love for it, you have come to the right place. We are here to tell you that sports canvas prints are the best way to show our love for the game.
This article will walk you through the basics of sports canvas wall art – what canvas wall art is, how many types, shapes, and sizes there are, and even give you some ideas on how to decorate these sports canvas wall art in your room.
What is Canvas Wall Art?
Before going into the more profound ideas and divisions of sports canvas wall art, let us first understand what canvas wall art is.
Canvas wall art is made by printing an image from an inkjet printer on a canvas board. These canvas boards can be stretched into a frame, while some prefer to leave it frameless.
The best part about canvas wall art is that you can customize them according to your wish – add your favorite images, choose your shape, size, and type of canvas.
Canvas wall art is often confused with canvas paintings. However, they are entirely different as one is made by inkjet printing on a canvas board while the other is hand-painted.
Canvas wall art is exceptionally durable. This is because these canvas boards are made of linen and cotton, and printing images on them ensures that they are long-lasting.
You can also ensure the longevity of such items by getting them laminated. It adds an extra shine and makes it last for at least 5-10 years.
Now that you have gained basic knowledge about canvas wall art let us see the various types, shapes, and sizes of these canvas wall art for showcasing your love for sports.
Types, Shapes, and Sizes Of Canvas Sports Wall Art
There are mainly two types of sports canvas prints that you can get –
Single canvases are for those looking for a single large canvas wall art to dominate the room. So if you are looking to get a vast blown-up picture of your favorite team, then we suggest getting a single canvas.
Multi-panel canvases are for those looking to make a collage with their favorite sports, teams, and players. It is ideal for those who have ample space to assemble all their wall art.
Canvas wall art comes in various shapes. These are –
Square canvas wall art is perfect for those looking to make collages of their wall. Due to their symmetrical size, they look great in any size and can be used to create a grid layout on a wall.
The rectangle shape is best suited for medium and large-size canvases. Its shape allows it to fill up any unequal space on a wall and represent an asymmetrical layout.
Canvas wall art is also available in circular shapes. This shape can look good in mini, medium, and large sizes.
Hexagon canvas wall art is great for those looking for a multi-panel layout. These six-sided polygons are generally preferred in mini size to accommodate multiple canvases on one wall and form a honeycomb pattern collage.
Canvas wall art is of three different sizes –
Mini canvas wall art is perfect for those looking for multi-panel layouts or for including small canvases all over the house. mini-sized canvases are mainly available in the following sizes –
4*4
4*6
6*6
5*7
Medium Sized-
Medium-sized ones can also be chosen for multi-panel layout in larger rooms or as a single canvas art for smaller rooms. These canvases are available in the following sizes –
8*10
10*10
10*20
11*14
12*12
14*16
Large Sized-
This oversized canvas wall art is preferred on its own. Their size is not easy to accommodate in every room, and proper planning must fit them into any wall.
If one does not take correct measurements before choosing a large-sized canvas art, one might end up with disproportionate home decor. These canvases are available in the following sizes –
20*20
20*24
24*24
24*36
30*40
36*36
Below are some ideas on choosing for your sports canvas to bring a charming touch to your home.
Canvas Wall Art Ideas For Sports Lovers
Pictures of Favorite Players-
You can get a multi-grid layout of all your favorite players to fill up your room. You can get several mini-sized or medium-sized canvases,
get the images of your favorite players printed on them and arrange them on your wall as a collage. We suggest these canvases in the shapes of squares or hexagons for asymmetrical or a honeycomb pattern, respectively.
Picture of Favorite Team-
We suggest going for a large-sized rectangular canvas for this idea. If you have a large enough room, then a large-sized canvas featuring your favorite team will be the best idea to showcase your love.
However, if you do not have enough space, you can go for a medium-sized rectangle canvas too.
Picture of Special Moments From Any Game –
If you have any favorite or iconic moment from your favorite sports, we suggest getting it printed on a canvas board. We recommend going for a large or medium-sized rectangular canvas for one specific memory or smaller medium-sized ones for multiple memories.
Read more:- grey bathroom cabinets
Conclusion
Thus to conclude, we can say that sports canvas wall art is one of the best ways to decorate your room or house if you are an avid sports fan. There are several types, sizes, and ideas for canvas art, and it takes a little time and patience to choose the most suitable one for your home.
We hope this article was helpful to you and can assist you in selecting the best sports canvas for brightening up your room.
About Author