What are the Pros and Cons of Ceramic Bathroom Tiles
3 min read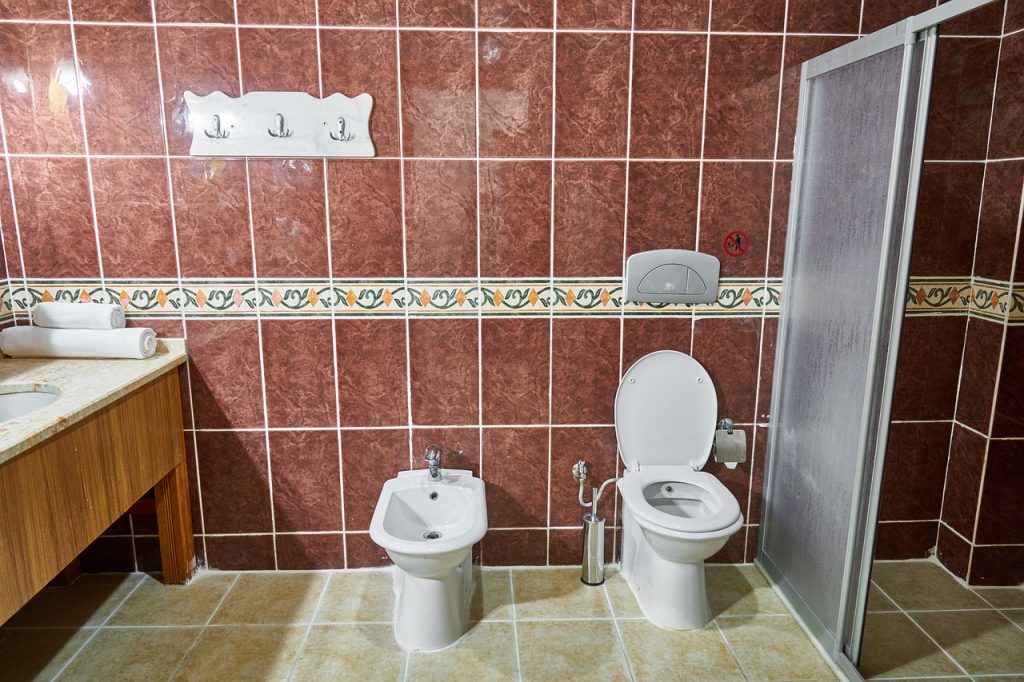 Last Updated on August 16, 2021 by Aaron Thompson
Many of you install ceramic tiles in your bathroom believing them to be low-maintenance. These are definitely less maintenance when compared to natural stone tiles like marble, slate, travertine, or granite, but they do come with their own share of problems.
Some people are often confused about installing porcelain or ceramic in their bathrooms. While both are non-porous, they are both different in their characteristics. We will first understand the characteristics of ceramics to know their pros and cons.
Characteristics of Ceramic Tiles
Ceramic tiles are very durable and non-permeable.
Due to their non-porosity, they do not absorb water or moisture into their pores. This helps in preventing mold and mildew occurrence at the root level.
Moreover, you get ceramic in a wide variety, which makes them a popular choice for bathroom interiors.
Ceramic tiles are available in different colors and textures.
These are less costlier than porcelain and also lighter in weight.
Ceramic are often used for ceiling and wall installations.
So, with these characteristics, if you find ceramic tiles ideal to be used as your bathroom, you should have a look at their pros and cons first.
Pros:
Available in a wide variety of different colors and textures. This makes it possible for you to choose as per your interior requirements.
Ceramic tiles are made from red or white clay that has been fired in a kiln, and then they are glazed or finished. This process makes them very strong.

Also Read : How to Improve Your Office Bathroom?

These cost less than porcelain which makes them an ideal choice for wall and floor installations.
Ceramic tiles are lighter in weight and hence installation becomes easy.
Ceramic tiles are very affordable.
These can be customized and shaped into soap dishes, chair rails, nosing, etc.
These have a solid and hard exterior surface which makes any dirt or dust particles stand out. It makes it very easy to wipe the dirt from ceramic tiles.
Ceramic tiles are non-allergenic and hence quite safe for pets and toddlers.
Cons:
Ceramic tiles are not as strong as porcelain tiles, which does not make them ideal for walking surfaces.
Ceramic tiles can get very cold underfoot in winters, making it unsuitable to walk on bare feet.
Heavy ceramic tiles can be very difficult to install.
The installation process can be very time-consuming and difficult.
As installation can be difficult, many homeowners find it tough to install these tiles as a DIY project.
Maintenance Instructions for Ceramic Tiles
Cleaning:
These tiles are non-porous and hence, you do not need any deep-penetrative cleaner. But, it is suggested to use an alkaline or neutral ceramic tile cleaner that does not cause etching on the surface.
A mild cleaning liquid is ideal for cleaning ceramic.
Do not use any abrasive scrubs as it might lead to scratches.
Also, do not use any acidic cleaners as it might cause etching.
You can try using Imperia Deep Clean for its robust and powerful cleaning action.
Sealing:
There is no need to seal ceramic as they are non-porous and tend to maintain their beauty and sheen.
But, it is necessary to seal the grout in between the ceramic. The grout used is often porous and tends to soak in moisture, leading to mold and mildew. This mold will then spread to the entire tile surface.
You can use an epoxy/resin ceramic grout sealer to seal the grout to make it waterproof.
Repairing:
In case of a crack in your tile, it is very easy to replace the tile. But this is possible only if you have a spare tile.
But, if you are unable to find the same tile, you can easily repair the cracks using an epoxy/resin adhesive like Sentura. It can be shaded in more than 40 colors and matched exactly to give you a seamless looking tile surface.
These are the pros and cons of ceramic tiles. Read the article carefully to decide whether it is an ideal fit for your bathroom or not.

About Author